Personalized drilling templates for characters application
We inform our customers that Real Votiva Store, on demand, can generate, through a special software, customized drilling templates for the application of the characters in bronze.
All characters in bronze of "Roman" and "Italian" style are to be fixed by a pair of pins placed on the rear of the letters. The application requires the need to carry out two small holes on the destination surface, for each letter to be fixed, in correspondence of the pins. It is fixed with adhesive for marble or other type of adhesive depending on the application surface.
To facilitate the drilling operation Real Votiva Store has created a special computer program that, depending on the text to compose, generates the template to show you exactly where to drill the holes.
The steps of the process are:
1. cutout the strips of paper from the template;
2. placement of the strips on the surface by adhesive tape;
3. drilling of the surface;
4. application and fixing of the letters by mastic for marble.
With the use of the templates the drilling process becomes a simple and fast task. The templates are also useful if we call a professional for the application of the letters.
To request the templates is sufficient that, after placing your order, you send us by e-mail, at servizioclienti@realvotivastore.com, the text to compose (name, dates, dedications etc.). The service is free.
Here are some examples of templates for drilling.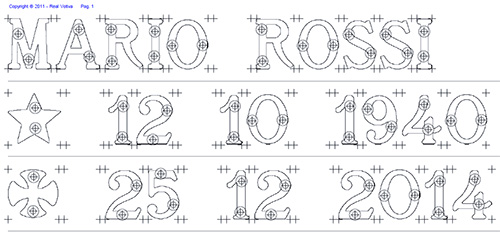 Fig. 1 - "Roman" sample template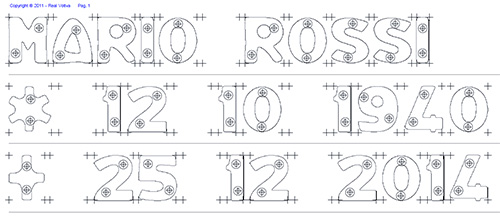 Fig. 2 - "Italian" sample template

Download sample PDF file: "Roman" PDF sample template, "Italian" PDF sample template
Download the Technical sheet - How to mount bronze letters for gravestones.
Note. The templates are not available for steel or porcelain characters.
Please contact us for more information.