How to save money on funeral homes services
Thursday, December 5, 2019
Funeral homes are certified and qualified agencies specialised in the delivery of a diversified and varied kind of services.
They support the parents of the dead in the various phases of the funeral rite:
funeral organization: funeral bonnet with the related accessories, rental of funeral furniture, funeral transport, modality and carrying out of the funeral ceremony, mourning posters, photographic memories, obituaries;
paperwork and administrative requirements;
burial: inhumation and cremation;
furnishing of cemetery chapels and supply of accessories for gravestones: funeral writings, photo frames, photo on porcelain, flower vases, votive illuminations, crucifixes, plaques, artistic decorations.
Just because of their very delicate and particular work, funeral agencies earn the client's confidence, distinguishing for commitment and professionalism.
Dealing with a mourning, as we know, requires time and peacefulness, which conciliate bad with the most immediate deadlines required after a death. The death of a dear person, both if it catches us suddenly or slowly, on the one hand, is an event with strong emotional repercussions, on the other hand, it gives the problem of funeral costs.
Therefore, the feelings of pain and discouragement are often added with anxiety, for the management of all the fulfilments which need to be done in these situations and the worry of not spending too much for the funeral rite (i.e. funeral's organization, the burying of the body, tombstone decoration and so on).
In any case the parents, wishing to honouring as better as possible their loved ones, always try to find funeral directors which offer services with a good value for money.
The work of the funeral agencies and the professionalism with which they carry out their tasks and for which only they are accredited is very important; however, for some types of services, such as the decoration of the tombstone, turning to a producer of funeral articles it is possible to obtain an appreciable saving.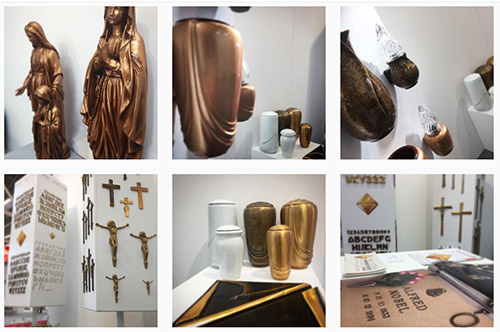 For this purpose, it is advisable to call on companies like Real Votiva, a funerary art foundry, leader in the sector of producing and selling funeral articles and accessories in bronze, steel, porcelain or marble dust, mainly used for the realization of tombstones, cemetery monuments and chapels, such as:
flower vases,
memorial votive lamps,
photos on porcelain and photo frames,
funeral writings, i.e. letters and numbers for the composition of the epigraph,
artistic floral decorations: shoots of roses, ears of corn;
holy crosses and crucifixes,
plaques and memorial parchments and related engravings,
decorative bas-reliefs,
sacred statues.
For more insights and in order to know the price of all the funeral articles that you need for the realization of the tombstone you can consult the full catalogue on our website (https://www.realvotivastore.com/en) and you can comfortably buy them online, while to request a quote you can contact our customer care.