The choice of flowers and plants for tombstones and tombs
Friday, November 22, 2019
This article provides useful tips on how to choose flowers and plants for tombstones and tombs and is aimed at those who, periodically, like to bring a floral tribute to their dead.
Bringing flowers and plants to the cemetery, on the graves of the dead, is a custom which has ancient roots and concerns, crosswise, the peoples of all religions.
The floral tributes, as we know, represent a tribute to honor the dead, one of the many ways we put in place to express our feelings towards the missing loved ones, but, in places of worship, they are also an aesthetic expression, because they add value to the tombstone, giving it color and beauty.
Therefore, if we choose to adorn the tomb, using fresh flowers in the cemetery flower-vases, it's preferable to purchase resistant floral compositions with prolonged duration; so it's better to choose seasonal flowers from local floriculture, because the imported ones wither before.
Among the most durable flowers stand out on all chrysanthemums and carnations, very resistant to external weather conditions; but equally valid are the cyclamens, the pansy and the heather; all of these ones are long-lived plants especially in the winter months.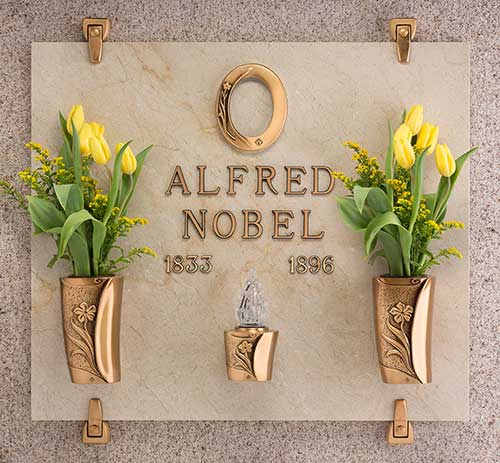 Tombstone proposal "Seba" Line
Last but not least, in order for them to remain alive, lively and beautiful for a long time, the flowers must be cut and placed in flower vases or trays with water, or placed in a well soaked floral foam.
In choosing flowers and plants for gravestones you can also opt for artificial flowers.
Among the most recommended there are silk flowers, very suitable for outdoor use and completely washable: floral compositions with an elegant and refined appearance that add a touch of color, vivacity and beauty to the memory of the dear extinct and, moreover, require very little maintenance.
With the artificial flowers it is possible to compose the most disparate bouquets: roses, calla lilies, tulips, cyclamens, irises, orchids, carnations, daisies etc, suitable for any cemetery monument: tombstone, tombs, dovecotes, family chapels and churches.
Finally, if you want to give a touch of novelty, creativity and eternal beauty to the tombstone, it is possible to buy bronze or porcelain floral decorations for tombstones.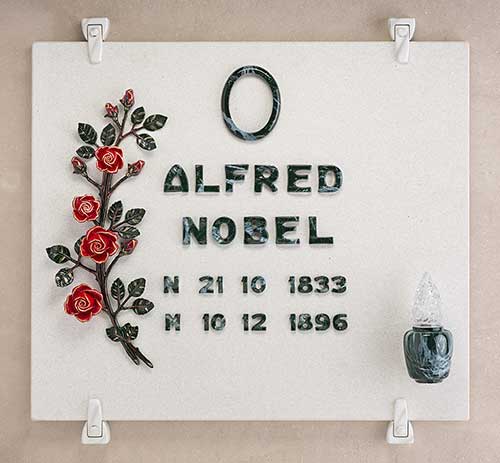 Tombstone proposal "Pelike" Line
These floral motifs, available in different styles, finishes and quality of materials, can be combined with funerary items of the same line: photo frames, votive lamps, numbers and letters for epigraphs.
A choice of this type would save money on the periodic purchase of flowers, given that, with the increase in requests, the wholesalers have raised the price of fresh flowers.
Real votiva has a diversified choice of floral decorations in bronze or porcelain of different sizes: roses shoots, corn ears, lily of the valley, daisies, violets. The rose shoots and the floral motifs in bronze are treated with a special coating that guarantees resistance to the elements and durability over time.
To check availability and find out the price of accessories and spare parts for funerary items, buy spare parts for funeral furniture online or to request a quote or technical information, you can consult the complete catalog on our Store (https://www.realvotivastore.com) or contact our customer service.